10 Tips for RV Tailgating with Dogs
I, and many of my tailgating cohorts, can often be found at tailgates with our four-legged friends, life's best RV tailgate accessory. Just like any member of the family, dogs are welcome in the RV and at the tailgate.
People say that one of the reasons I got Starter RV was so that the dog could tailgate with us and I didn't have to cut my tailgate time short to go home to let the dog out.
And they wouldn't be wrong. That's how much dogs are an essential part of our lives.

Disclosure: This post contains affiliate links for various products below. You get the same low prices and we earn a small commission.
Burdell, my "generic brown dog," was named after the Georgia Tech legend George P. Burdell. He's a mutt of around 75 pounds that loves to people watch.
You can often find him in the front windshield of the RV, catching some rays and laughing at the entertainment of his two-legged friends. Burdell loves his RV tailgate weekends, but it does require some extra work and planning on my part.
Here are 10 tips to help you have a better tailgate experience with man's best friend:
Before You Leave Home
1. Maintain Vet Records
You should always have a copy of your pet's vet records with you. Most importantly, you'll want a list of the most recent shots and any medications your dog takes.
Keep a copy of your dog's vet records in the RV. I recommend an actual paper copy, in case you need to provide to a vet or other person quickly. Depending on where you are, internet access may be spotty.
On the other hand, it is also wise to keep a copy available to you online (Dropbox, Gmail or other web-based email, server) in case something happens to your RV or your dog literally eats the records. Or you forget to take the paper records with you. Having an electronic record means that you can easily email them off to an emergency vet if need be.
Make sure he has his rabies vaccine tag on his collar. Most dog parks require a rabies tag. It's always wise to have the rabies tag on at the tailgate lot as well. This could prevent unnecessary problems with animal control.
You will also want to keep up to date on your dog's flea and tick prevention medications. There will be no escaping fleas if you get an infestation in your RV. Yet another reason to go with laminate flooring.
2. Maintain Contact Information
To help in case he gets lost, make sure that he has an ID tag with his name and your cell phone number. Don't put your home phone number on his tag – you won't be home to answer the home phone if someone calls there.
Registered microchips are also valuable, giving rescuers your contact information in case your dog loses the collar with the ID tag. These are especially important if you are traveling to away games or on vacation.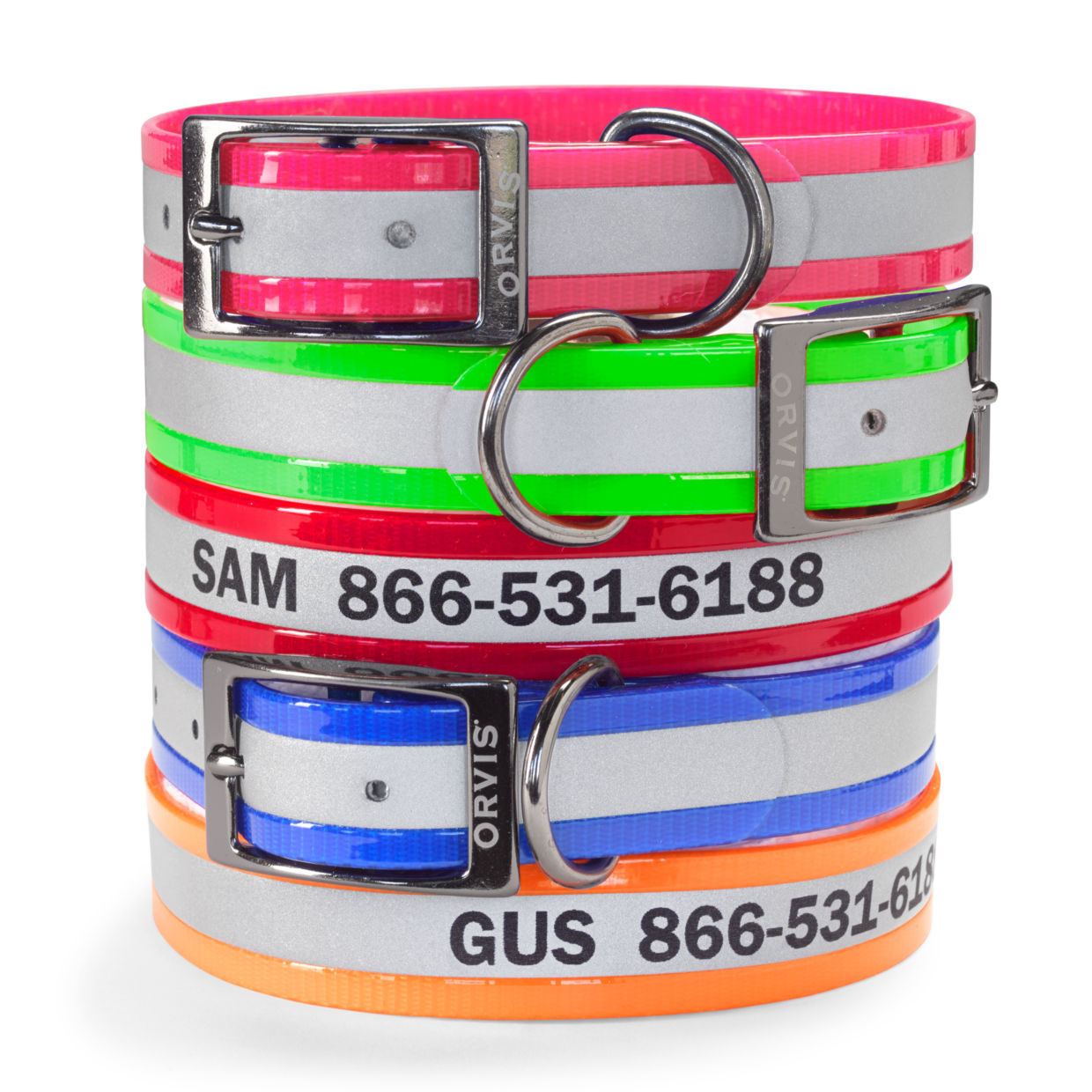 Speaking of collars, I am a fan of No-stink Reflective Dog Collar
, similar to the one linked here from Orvis. These are great to help cars see you while walking your dog at night. Remember, neither you nor the dog are going to be as familiar with the area or traffic patterns at the tailgate as you would be at home.
3. Know Where Your Dog Isn't Welcome
Unfortunately, not everyone has the same outlook as we do when it comes to our four-legged family members.
Some campgrounds and tailgate locations are not dog-friendly. Make sure you review the rules before you leave home.
Sometimes, you will need to leave them home or make other arrangements for their care.
4. Dog Food Storage
Since you only need to bring a weekend's worth of food, small plastic air tight containers work great for keeping things organized and cleaned up.
I usually have enough room over the food to throw in a bone, some treats, and even a toy or two. Burdell loves that his toys and bones taste like his food and treats. It also gives him something to chew on and leave my stuff alone.
See Also: Frozen Dog Treats Perfect For Your Next Tailgate
5. Give the Dog a Bath
Take the time to give your dog a bath and brush him thoroughly. All the dog's normal smells are going to be even more potent in the small space of your RV and the hair will be everywhere. Minimize this with a bath and brush.
See Also: Castile Soap Miracle Wash for Dogs & Leashes
Tailgating with your Dog
6. Limit His Freedom
Burdell can be easily distracted (hey look! squirrel!).
And this is why many schools and campgrounds will require your dog to be on a leash at all times he is outside your RV.
I generally keep him on a six-foot leash at all times, even when he is inside the RV. Too many people are coming and going, allowing escape if everyone is not paying attention. The leash makes it easier to catch him before he goes off on a hunt – you just have to step on it instead of grabbing him.
When I want to give him more freedom (but not too much), I've found that a thirty-foot leash is quite useful.
The longer leash allows him to patrol the area immediately surrounding Starter RV and greet all visitors while not getting so far away that he is in other people's tailgate setup.
7. Stay Organized and Clean
Now you have more reasons than just ants to keep everything organized and cleaned up.
One tailgate, I was a little lazy in keeping all the food up and out of his reach. I came back to find that breakfast, 3 large blueberry muffins, were gone, wrappers and all. Fortunately, Burdell had no digestive problems that night (that would have been HORRIBLE! in such a small space), but I did miss out on breakfast.
You'll also have to spend more time cleaning, just from the dog hair and dirt they bring with them. If you are looking to buy an RV or looking to renovate yours, I highly recommend that you look for something with laminate or similar "hard" floors instead of carpet. So much easier to clean, especially after a rainy tailgate in a field (looking at your Clemson and Charlotte/ACC Championship Game).
See Also: Stopping Odors in Your RV
8. Be a Considerate Neighbor
When you are at the tailgate, make sure that you pick up after your dog and minimize their impact on your neighbors.
Pick up their poop and dispose of properly. Keep barking to a minimum.
We tend to go to the same schools every few years, so you don't want them to ban pets for future trips.
During the Game and Travel
9. Business Time

Remember to take your dog for a walk and let them do their "business" before you start down the road or go to the game.
You want to make sure your dog is comfortable and no messes happen when you aren't there to take care of it.
Make sure you dispose of your dog's waste properly.
See Also: RV Pet Temperature Monitors: Know That Your Dog is Comfortable While You Are Away
10. It's a Crate Life
Because he can be a rascally creature, up to no good, a crate is a good thing for when we are at the games or away from the RV for long periods of time (don't worry, I leave the AC running for him when it is hot).
The prior owners of Starter RV had already removed the dinette, leaving open space. I found a crate that fit perfectly between two built-in blocks (housing electrical and supporting joints) which also prevents it from moving during transport.
In the new Tiffin, I have found that a medium size crate fits perfectly under the computer workstation table.
Burdell also has the fortunate luck of spending time in the crate while I'm driving. He thinks he is a lapdog, all 75 pounds of him, and that's not a good idea to get while I'm driving down the road. Nothing like a giant hunk of metal careening down the interstate while your dog settles into your lap.
Know Your Dog
Is your dog a runner? Does he or she not like other dogs or certain types of dogs (small, large, yappy, etc)?
Burdell is cool with other people but he only likes a small subset of other dogs. To avoid a mishap with other dogs, I generally keep him away from other dogs unless I know the other dogs and think their temperaments will match well enough, and I always supervise when he is outside the RV.
No one has time to deal with a vet visit during a tailgate weekend, so avoid such situations if possible.
What are your tips for tailgating with man's best friend?
Do you have any suggestions to make tailgating with your dog more fun and enjoyable for everyone? Comment below!
Like this post? Pin for Later!
You May Also Like:
RV Security System by Ring Alarm Pro
How To Stream Live Sporting Events in the RV
How To Remove RV Sewer Flies and Gnats