21 Essential RV Kitchen Tools
Looking to stock a new RV? Well then, you'll need to stock your RV kitchen with these essential tools.
Once you have these kitchen tools, you will be ready to cook up a meal for your family and friends in no time. And never have to go ask your RV neighbors to borrow something. At least not a can opener.
Disclosure: This post contains affiliate links for various products below. You get the same low prices and we earn a small commission.
Essential RV Kitchen Tools
When you are stocking your RV kitchen, you'll want to keep a few things in mind: function, space, and weight.
First, everything you put into your RV kitchen should be functional for how you use it. Bonus points if the item has multiple functions built-in. Don't drink coffee? Then don't bring a coffee machine along. Master baker? Then you might want to bring along your Kitchen-Aid Mixer when others might do with a handheld mixer.
So make sure you adapt the essential gear to how you cook! Don't be afraid to start with the basics and add to the essentials as you figure out what you need.
Second, space. We are looking to stock a tiny kitchen with tiny cabinets. That means that everything should be picked with size as a major consideration.
Third, we consider weight. Every pound we put into the motorhome increases the overall weight and decreases our fuel economy. Over-load the trailer too much and you'll risk major catastrophe like tire blowouts. Sure, the kitchen gear is small in the big scheme of things but every pound counts. Plus, it gets you into the habit of always considering how much things weigh.
Flexible Wand Fire Lighter
How many times do you have to start a fire when you are RV camping? Let's see – the RV stove and oven, the gas grill, the fire pit.
Sure, some of those have automatic spark lighters attached but they don't always work. And when they don't, you have to crawl around, finding the exact spot to put the flame to get the pilot light lit (looking at you RV ovens).
It is so much easier when you have these mutli-purpose lighters. No worrying about tons of matches that might get wet. And the flexible wand means you can put the flame exactly where you need it, right next to the kindling without disturbing the entire camp fire setup.
Basic Pots and Pans
Every RV needs some basic pots and pans so that you can cook whatever you want.
The basic list includes:
Stock Pot
Sauce Pan
Frying Skillet
Baking Pan
I also found that I love having a larger wok/skillet. You can cook a lot in it and it is a very versatile pan. Because it is not as deep as a stock pan, it is easier to store in your tiny kitchen cabinets. I have the Calphalon all purpose pan in my RV and it fits nicely in the drawer below the stove.
A lot of the sets that you'll find on Amazon and other places are often overkill for an RV kitchen. After all, those extra pots and especially lids take up a lot of valuable storage space. Calphalon has a space saving series that stacks for storage but it is a bit on the pricey side.
Cast Iron Skillet
Cast iron skillets are awesome tools for RV cooking. You can use them in the oven, on the stove, on the grill, and even over the campfire. You can make cake or cornbread in the oven, cook a steak, stir fry chicken and vegetables, and whole slew of other recipes.
And when you go to clean them, you don't use soap. Hot water is usually sufficient to get them clean. Maybe a little salt.
The versatility is one of the best aspects of a cast iron skillet for RV camping. Plus it makes you feel like a real Southern cook if you use one on the regular!
I keep a smaller cast iron skillet in the RV but also have a larger one that I can bring from my home kitchen if the planned recipes call for it. You can get a two cast iron skillet bundle from Amazon.
See Also: How to Restore a Rusty Cast Iron Skillet
Casserole Dish with Lid
Every RV needs a glass casserole dish, and one that has a lid. These are great for making casseroles (duh!), cakes, dips, pot roasts, and so much more.
Get one with a lid so that you can make things ahead of time before the big tailgate or to store leftovers. The lids mean you can stack stuff on top of them for extra storage in the fridge or the pantry.
The OXO Good Grips 3-quart baking dish with lid is safe to take from the freezer to the oven.
Don't forget to grab an Insulated Casserole Carrier (available in a variety of colors to match your favorite sports teams). Even with the RV, you'll be surprised at how useful having the insulated carrier bag will be – especially when you need to keep your dishes warm or cold when they are out on the serving table.
Blender for Frozen Drinks and Smoothies
It gets hot here in the South. And what better way to cool down than with a frozen adult beverage?
A frozen margarita or a frozen fruit slush hits the spot every time.
You can also use a blender for making smoothies. And for some cooking applications, like making sauces, dips, etc.
The Ninja Countertop Blender is an excellent high-end blender for your RV.
If cost is more of a concern, then check out the Hamilton Beach blenders which consistently provide a quality product.
Countertop Ice Maker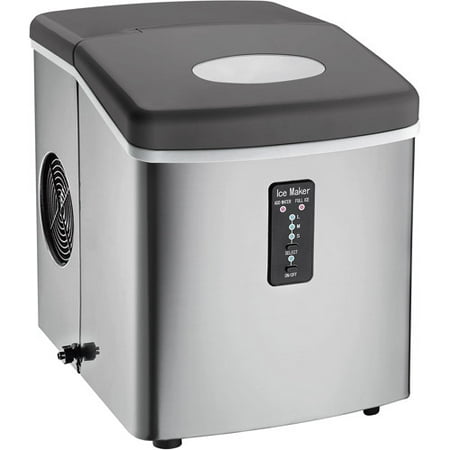 I love having a countertop ice maker even though I have a residential fridge with an ice maker.
But the countertop ice maker
is so efficient at making ice. I'm always on the move and the countertop ice maker will have ice ready by the time I finish setting up the tailgate. Just in time for my first adult beverage. My residential fridge's ice maker doesn't work that fast.
It makes ice quickly so I don't have to worry about buying 10 pound bags of ice that then take up all that space in the freezer. Because I'd rather have ice cream, moonshine, and other fun stuff in the freezer – not ice.
Aluminum Foil
Aluminum foil is a great multi-purpose tool for your RV kitchen. You can wrap up leftovers for easy storage in your fridge without taking up extra space.
Use it to cook on the grill to help keep meats moist and small items from falling through the grill.
You can even ball it up and use aluminum foil to clean the grill when you forgot the grill brush.
Aluminum foil is also great to wrap up things that you want to cook over the campfire.
PS Go with the heavy duty aluminum foil because the last thing you want is for the foil to tear on the grill.
Foil Cooking Pans
At the beginning of every tailgate season, I get a large bag of aluminum foil pans. These things are great.
You can throw them right on the grill or smoker and cook at high temperatures. You can use the pans during prep or as serving dishes.
And then when you are done, just throw them away. I know, not the most environmentally friendly practice but some times it is the best solution.
For most uses, the 9×13 inch pans are good, solid pans. The 8 inch square pans are also quite convenient, especially for cookie bars and other desserts.
Crock-Pot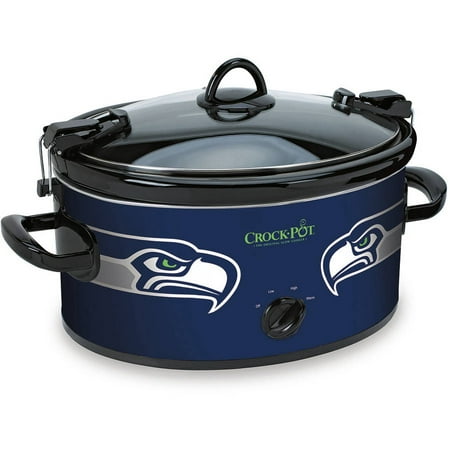 I love Crock-Pots for the RV. They are great to setup and cook a meal while you are gone to the football game or out on your daily adventure.
You can even use them on travel days – cook while you drive down the road. Just don't be surprised when you have to stop because it smells so good inside and you get hungry early!
Wal-mart has NFL 6-Quart Crock-Pots
as well as quite a few college teams.
Another good option is the Crock-Pot 6 Qt. Programmable Cook & Carry Slow Cooker with Digital Timer
. Make sure that your Crock-Pot has the locking lid to make it RV travel-day friendly!
Stacking Non-Slip Mixing Bowls with Lids
Mixing bowls serve a variety of uses in the RV kitchen. And that's always a good criteria for any essential RV item.
First, the obvious – mixing stuff up. Making a cake? Gotta mix stuff up, even if you are making it from a box.
Second, you can use the mixing bowls as a serving dish.
And since these have lids, they are great for storing leftovers in the fridge. Because they have the non-slip bottoms, they are way more likely to stay in place in the fridge while you are traveling.
I recommend these PriorityChef Mixing Bowls set which comes with five bowls and five lids and each have the non-slip bottoms. I have gotten so much use out of these and they store nicely in one of my upper kitchen cabinets.
Can Opener
Do you know how many times I had to go around asking other RVers to borrow a can opener until I finally remembered to stock my RV kitchen with my own?
I thought I was only getting cans that had the pop-tops, but inevitably, a can without the pop top would sneak in. And I wouldn't be able to get it open.
My advice, get one of the cheap manual ones. They take up less space and you never have to worry about having an outlet, batteries, or power source. Plus, they often double as bottle openers for your beer bottles. Win-win!
Corkscrew Bottle Opener
If you are a wine drinker, then you will definitely need a corkscrew.
I highly recommend that you get a manual one – again you'll never have to worry about power sources and they take up a lot less room. Also look for one that has a bottle opener on it – two tools for the price and space of one!
The traditional waiters corkscrew is a good option because it takes up so little space in the RV utensil drawer.
Good Knives
If you are going to cook, you need yourself a good set of knives.
When I was first stocking my first RV, I found these Cuisinart Knives with Covers on an Amazon Prime Day deal. I liked them so much, I got a second set for my house and now my parents even have them in their house too.
The covers are really nice because it means you don't have to worry about getting cut when you stick your hand in a drawer to find them. It also helps to keep the knives in better shape and all the other stuff in your drawer or basket from getting knicked up.
Kitchen Scissors
You'll want to get a pair of really good kitchen scissors. You will be surprised how much you use these, both in the kitchen and outside the kitchen (looking at you, billions of zip ties everywhere and the child-proof packaging on everything).
And in the spirit of everything needs to have multiple purposes, find a pair of kitchen scissors that also have a bottle opener and even help with small jars.
Yes, seriously every kitchen tool needs a bottle opener. Trust me on this. You'll need it for the tailgates!
Cooking and Serving Utensils
You'll want a collection of spoons, ladles, whisks, spatulas, and what not in your RV kitchen.
I prefer the silicone utensils so that they don't scratch up pots or pans and they are heat resistant at very high temperatures. They also make less noise when they rattle around while you are driving.
Solid spoon
Slotted spoon
Deep ladle
Pasta claw spoon
Spatula
Tongs
Whisk
You can buy a silicone cooking utensil set and then ditch the container if you don't want to use it in your RV kitchen. This will get you started on a great utensil set for your RV kitchen.
I use a good set of serving spoons in the RV kitchen. But I also get a package or two of the cheap ones from Dollar Tree to keep on hand as disposable serving utensils at the tailgate potlucks. You don't want to put your good ones out there because you might not get them back. But you also don't want to put out thin plastic stuff that is going to break as soon as you try to serve up a nice portion of the smoked mac and cheese.
That's where the Dollar Tree Betty Crocker utensils come in. I've found that they are good solid utensils that if they go missing, it's not the end of the world. But you can also wash them and keep using them over and over if they don't go missing. One package of these usually lasts me several seasons.
Cutting Boards
Just about every tailgate or camping trip, I have to use a cutting board for something. I actually keep a variety of cutting boards around.
My favorites are these thin, flexible cutting boards that come in a variety of colors. The colors are great to keep different food types separate for food safety purposes – meat can stay on one, fruits and veggies on another. Because they are so thin and flexible, they are really easy to store in this awkward cabinet I have next to my kitchen.
If you are going to be working with large hunks of meat for the smoker or grill or racks of ribs, then you'll want a stronger and larger cutting board like this 18×30 plastic cutting board.
If you like your cutting boards to double as serving dishes, then try a large wooden cutting board that will look beautiful serving up a nice charcuterie platter.
Dish Towels
Yes, you can use them to dry stuff off. But that's not the only reason you need dish towels in your RV.
They are also useful mats to put wet dishes before you get a chance to dry them off. They are great pot holders to protect your hands or even the table or counter top when you put hot dishes down. Dish towels are also great to wrap up food to keep warm (really love to use dish towels to wrap up warm biscuits during a morning tailgate or a casserole dish at any time).
They are also a cheap way to put some color or decorative touches in the RV. And you can switch them out by season or holiday easily.
A Trash Can
Yes, every kitchen needs a trash can. But since RV kitchens are so small, you may not want a free standing trash can or even have room for one of the under-cabinet pull-out trash cans like you use at home.
That's why I use an over-the-door trash bag holder. These are big enough to hold the typical grocery store plastic bag but small enough to be out of the way.
The baskets are also great places to put fruit or vegetables during transport.
Dawn Powerwash Dish Detergent
I've been a fan of the Original Dawn Dish Detergent for a long time. There's nothing better at getting stuff clean and then it helps keep your black and gray tanks in top shape.
But now I've found something even better – Dawn Powerwash. It takes a lot less water to get things clean and it smells good as well.
You wipe all the excess food off and throw it in the trash (not down into the gray tank, thank you!) and then wet the dishes. Spray the Dawn Powerwash on it and let it soak for a bit (longer the greasier, dirtier your dishes are). Then rinse. If they are real dirty, take a dish sponge or paper towel to the dishes to help get the stuff off.
Seriously, you'll save an entire sink full of water using Dawn Powerwash.
See Also: Ultimate List of Useful Tips to Save Water While RVing
Disinfecting Counter Sprays
If one thing 2020 has shown us, it is the important of disinfecting things (hand sanitizer, hand soap, towels, etc).
And in the kitchen, it has always been the case that you need a good disinfecting spray to clean up. What with the juices from raw meat and spills and splashes that attract ants, you should always clean the counters with a good cleaner at the beginning and end of your cooking sessions. And any time you make a big spill.
Fire Safety
There are two things that go under fire safety: a food fire extinguisher and a fire blanket.
Remember, you shouldn't use water on a kitchen or grease fire. That means if you have a flare up, you'll need to be ready with a handy fire extinguisher (I have a small one right there below my kitchen sink). Make sure that your fire extinguisher is rated for kitchen fires.
A fire blanket is also very handy to quickly smother a fire without the same mess of a fire extinguisher.
Stock Your RV Kitchen For You
Don't forget that you need to make your RV kitchen function for how you cook. Don't expect that you are going to suddenly be a master baker if you've never done it before.
Because cooking in an RV kitchen takes some practice and you will probably have only a portion of the tools that you have at home. Not to say it can't be done, but it is more difficult.
But if you have all these essential RV kitchen tools, you'll be well on your way to producing quality meals for your family and friends!
You may also like:
– How To Keep Your RV Kitchen Organized
– Solo Cups Holder for the RV Kitchen
– How to Eliminate Funky RV Fridge Odors
Like these RV kitchen recommendations? Pin for later!